Ancient City, Ancient Tradition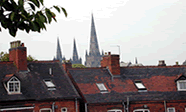 First of all Lichfield is not a new city by any means. The Romans built Letocetum in the 1st century AD, a fort 2 miles to the south of Lichfield, at the crossroads of Watling Street and Ryknild Street.They decamped in the 5th century and it is a bit hazy as to what happened for a while. Then, the Veneral Bede recorded that Chad moved his bishopric to Licidfelth in 669AD. He built the first church, probably on the site of the current cathedral which dates from the 13th century. Chad's Licidfelth quickly became the ecclesiastical centre of the Kingdom of Mercia.
Lichfield, a stronghold for Royalists, suffered during the Civil War due to its strategic position between north and south. Parliamentarians desecrated the Cathedral in 1643 and bombarded it in 1646 when the central spire collapsed.
In later centuries the original Roman routes became important highways. Lichfield was a major staging post for the horse drawn coaches and carriages of the time. Lichfield had one of the highest number of Inns per head of population just to cater for the constant traffic.
Literary Lichfield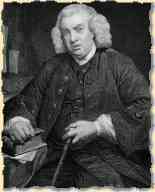 Dr. Samuel Johnson 1709-1784,
Lichfields greatest son was born on 18th September, 1709 in his fathers house in Breadmarket Street.
His early years were difficult - his parents were beset by financial problems - but from the books in his fathers shop he found comfort and instruction, preparing him for his role as the centurys greatest man of letters.
His education at Lichfield and Stourbridge Grammar Schools gave him an excellent introduction to classical literature, but a brief period at Pembroke College, Oxford, was brought to a hurried conclusion by financial difficulties and increasing depression.
A fruitless search for schoolteaching work in the Midlands made him drift into a writing career in journalism and translation in Birmingham and London
It was in Birmingham that he met Elizabeth Porter whom he was later to marry. She was twenty years older than Samuel, with three grown-up children from a previous marriage.

An attempt by Samuel and Elizabeth to set up a school outside Lichfield failed and led to the couple's removal to London.

Following several years of hack-work writing in London, Johnson was offered the major task of compiling an English Dictionary, a project which brought him fame though little financial reward. His years of struggle ended with the award of a government pension of £300 a year.

In the later years of his life he became, to some extent, public property, being sought by the famous and the obscure for his advice on literary and worldly problems.

The backbone of these years was his friendship with Henry and Hester Thrale, in whose houses he found comfort and a family in whose affairs he could interest himself. The conviviality of this part of his life, however - reflected in his friendships with men and women like James Boswell, Sir Joshua Reynolds, Oliver Goldsmith, Fanny Burney - masked a fear of solitude and mental anguish.

His last years were sad, being characterised by illness, the death of his close friends, and the breakdown of his friendship with Hester Thrale. Although a profoundly religious man, he was fearful of his fate in the afterlife, and only on his death bed did he start to come to terms with his death. He died a national celebrity, and was buried in Westminster Abbey.
http://andromeda.rutgers.edu/~jlynch/Johnson/
Other Literary Figures
Erasmus Darwin (1731-1802) Erasmus Darwin came to Lichfield in 1756 and lived in Beacon Street. He was a doctor, scientist, inventor and literary man, and the father of Charles
Along with James Watt, and Josiah Wedgwood he was a member of the Lunar Society, one of the intellectual forces behind the Industrial Revolution. He had many interests and the botanical research he carried out in his gardens led to his ideas on evolution well before his grandson, Charles.
Visit the Erasmus Darwin Foundation site, the link can be found on the right hand side of this page.
Anna Seward (1742 - 1809) Romantic poet and letter writer
The Swan of Lichfield came to Lichfield when her father was appointed Canon Residentiary of Lichfield Cathedral, in 1750.
Anna first came to national prominence as a poet with her poem, the Elegy on Captain Cook, (1780). The work gained her the sobriquet The Swan of Lichfield and there followed a number of literary works including the poetical novel, Louisa, Llangollen Vale and a collection of sonnets. As her stature increased she began to correspond Samuel Taylor Coleridge and other notables of the time.
Anna Seward also worked with Dr. Darwin and wrote the introduction on his work, The Botanic Garden. Upon his death in in 1802 she published his biography, Memoirs of the Life of Dr. Darwin.
Her early relationship with Honora Sneyd and subsequent painful parting when Honora married in 1773 gave rise to some of Annas finest work.
Anna never married despite many offers and spent her time caring for her sick father and supporting young, talented writers.
Walter Scott published much of her poetic works after Anna died in 1809. There is a monument to Anna Seward, the Swan of Lichfield, in the cathedral.
Website link for Anna Seward