The Three Ladies of the Vale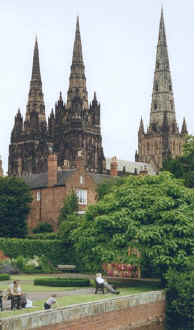 A cathedral is a signpost inviting people to worship. Lichfield Cathedral was founded on Christmas Day 700 and, virtually every day for more than 1300 years, people have worshipped God here. At the time of it's founding, Lichfield stood at the centre of the Kingdom of Mercia. When Chad was made Bishop of Mercia in 669 he moved his See from Repton to Lichfield, which may already have been a holy site since there is a legend that Christians were martyred there under the Roman Emperor Diocletian! When Chad died in 672 pilgrims began to come to his shrine, and in 700, Bishop Hedda built a new church to house his bones. Starting in 1085 and continuing through the twelfth century this Saxon church was replaced by a Norman Cathedral, and this in turn by the Gothic Cathedral begun in 1195.Pilgrimage to the shrine of Chad continued throughout this period, the Cathedral was expanded by the addition of a Lady Chapel, and there were perhaps as many as twenty altars around the Cathedral by 1500. All this changed at the reformation, and the Cathedral was severely damaged during the Civil War being under seige three times. Bishop Hacket restored the Cathedral in the 1660s, and William Wyatt made substantial changes to its ordering in the eighteenth century, but it was Sir George Gilbert Scott, Cathedral Architect from 1855-1878, who was responsible for its successful restoration to Medieval splendour Its fabric has been wonderfully restored in recent years.
Today, Lichfield Cathedral still stands as a beacon of faith and hope in the middle of England,in the the heart of the Diocese and is a focus for the regular worship of God, the life of a thriving community, the work of God in the wider world, and for pilgrimage. a powerhouse of prayer for the whole region.
The great building shows all the signs of its long history of a Christian community serving God and the world, now moving confidently into the twenty-first century.
Lichfield Cathedral, 19A The Close,